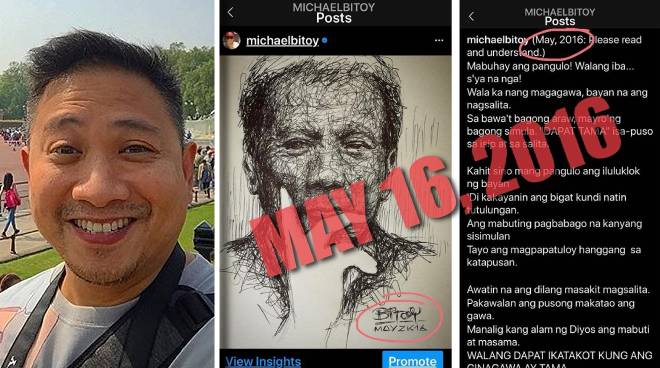 Michael V. clarified that his quote that has been circulating on social media expressing support for President Duterte is not a recent one.
Michael V. took to social media to clarify that a quote expressing his support for President Rodrigo Duterte that has been circulating on social media recently was from an old post.
According to the comedian, the quote was posted back in 2016.
"FACT CHECK. Madalas kong nakikita sa circulation 'tong quote ko na 'to which I posted more than 4 YEARS AGO nu'ng nanalo si Digong as President, to encourage people to accept and respect the election results, consistent with the 'Dapat Tama' campaign na ginawa ko with GMA Network. To set the records straight, it's NOT A RECENT POST," he wrote on his Instagram page.
He also called out those who are using his 2016 quote as a campaign material.
READ: Michael V. denounces fake news reports that he has passed away
"Please pay attention to the LAST LINE NA ALL CAPS," he said, referring to the line in his 2016 quote which said, "Walang dapat ikatakot kung ang ginagawa ay tama."
He added, "I have no problem with people using it for the right reason pero HUWAG PO NATING GAMITING CAMPAIGN MATERIAL."